Founded in 1971, Murrysville Area AAUW is a local branch of the national American Association of University Women of which there are over 100,000 members. AAUW advocates equality for woman and girls and works to break the education and economic barriers that are experienced by women and girls today.
AAUW, founded in 1881, is open to all graduates who hold an associate degree or equivalent, or baccalaureate or higher degree from a college or university or academically accredited institution. In principle and practice AAUW values and seeks a diverse membership. There are no barriers to full participation in this organization on the basis of gender, race, creed, age, sexual orientation, national origin, disability or class. Membership is not by invitation.
---
Current Branch Newsletter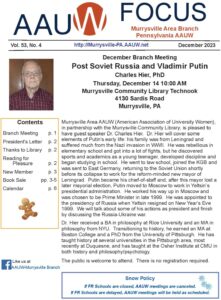 ---
Upcoming Events
Meetings in 2023/2024 will be held in the TechNook of the Murrysville Public Library at 4130 Sardis Road, Murrysville, PA 15668. Programs will begin at 10:00 AM and be followed by the monthly business meetings. Meetings are open to the public. Everyone is welcome.
October 12, 2023
"My Career Fighting the Mob in Youngstown, Ohio"
Paul Gaines, JD
November 9, 10, 11, 2023
AAUW Book Sale in conjunction with the Murrysville Community Library
December14, 2023
"Post Soviet Russia and Vladimir Putin" Charles Hier, PhD
January 11, 2024
"Pittsburgh, Forged in Steel" Susie Toma
February 8, 2024
"Advancing STEAM & Future Ready Learning in the Alle­Kiski Valley"
Colleen Smith, BA, M.Ed
March 14, 2024
"Eagles and the Importance of Biodiversity" Don German, US Steel Plant Manager
April11, 2024
"The History of Norvelt" Sandy Schmizzi, Author
May 9, 2024
"Banned Books"
TOURS:
Tours will be scheduled on a pop-up basis. Please check back!