Founded in 1971, Murrysville Area AAUW is a local branch of the national American Association of University Women of which there are over 100,000 members. AAUW advocates equality for woman and girls and works to break the education and economic barriers that are experienced by women and girls today.
AAUW, founded in 1881, is open to all graduates who hold an associate degree or equivalent, or baccalaureate or higher degree from a college or university or academically accredited institution. In principle and practice AAUW values and seeks a diverse membership. There are no barriers to full participation in this organization on the basis of gender, race, creed, age, sexual orientation, national origin, disability or class. Membership is not by invitation.
---
Current Branch Newsletter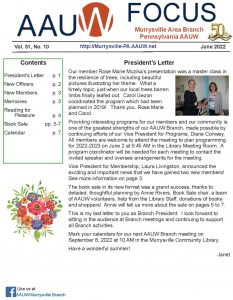 ---
Upcoming Events
All programs are offered in partnership with the Murrysville Community Library and are
open to the public.
September 9, 2021
"Flight 93 National Memorial: From Tragedy to Triumph" with Superintendent Stephen M. Clark
October 14, 2021
Suffrage: "The Road to the Vote for American Women" with Judy Sutton
November 11, 2021
Barbara Jones, Chief Curator of the Westmoreland Museum of American Art, "My 26 Years as Chief Curator of the Westmoreland Museum of American Art"
December 9, 2021
Social Gathering with Book Exchange
January 13, 2022
"The Spanish Lady Visits Our Area: The 1918 Influenza Pandemic in Western PA" with Thomas Soltis, PhD
February 10, 2022
"The Art of Joyce Werwie Perry" with the artist
March 10, 2022
"Human Trafficking" with Roni Kay O'Dell PhD
April 14, 2022
"What Does the All of Us Research Program Mean for All of Us" with Lisa Suzanne Parker PhD
May 12, 2022
"What Forests Teach Us about Resilience (and Ourselves)" with Rose Marie Muzika PhD
TOURS:
| | |
| --- | --- |
| Sept. 22, 2021 | Flight 93 Memorial |
| Feb. 17, 2022 | Art Studio of Joyce Werwie Perry (proposed) |
| May 2022 (date TBA) | Carnegie Museum of Natural History (proposed) |